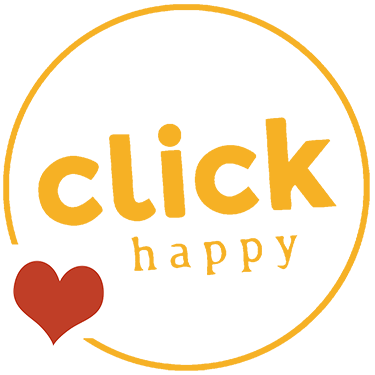 Congratulations - Your teacher / youth leader / librarian has chosen you to receive a scholarship to Click Happy Summer Academy.  They either saw grit or talent in you.  And Grit and Photographic Talent is what you will further develop in our program.
Learn Visual Story Telling and Documentary and Street Photography Skills
In the Click Happy Summer Academy, you get to learn alongside talented young artists from around the country.
The goal is to develop your photography skills and help you become a powerful visual storyteller.
You will get to learn how to use your cellphone or DSLR camera in manual settings.  This will give you greater creative control over your imagery.
Your tutor is a past winner of New Zealand's Creative Photographer of the Year.
Photography | Philosophy | Philanthropy
Step 1: Photography
You learn manual settings on your DSLR or Phone (to give you more creative control)
Composition skills
Creative storytelling
Documentary Photography Skills
Street Photography Skills
How to edit your photographs in Lightroom ( a free app)
Weekly photographic challenges to help you develop your natural talents and learn image critiquing skills.
The photography challenges are also wellbeing challenges that help you build creative grit and self-compassion.
Our brand of philosophy is called HeArtivism and helps you become smarter in 4 brains, not just one

Head (Wairau / Inspiration / Problem Solving / Critical Thinking)
Heart (Aroha / Human Connections / Communication / Self compassion)
Guts (Mana / Character-Based / Emotional / Intuitive / Skill mastery)
Ground (Papatuanuku / Community / Environmental Stewardship / Service beyond self )

We help you to understand where you are blocking your best work and give you tools that can help to shift those blocks.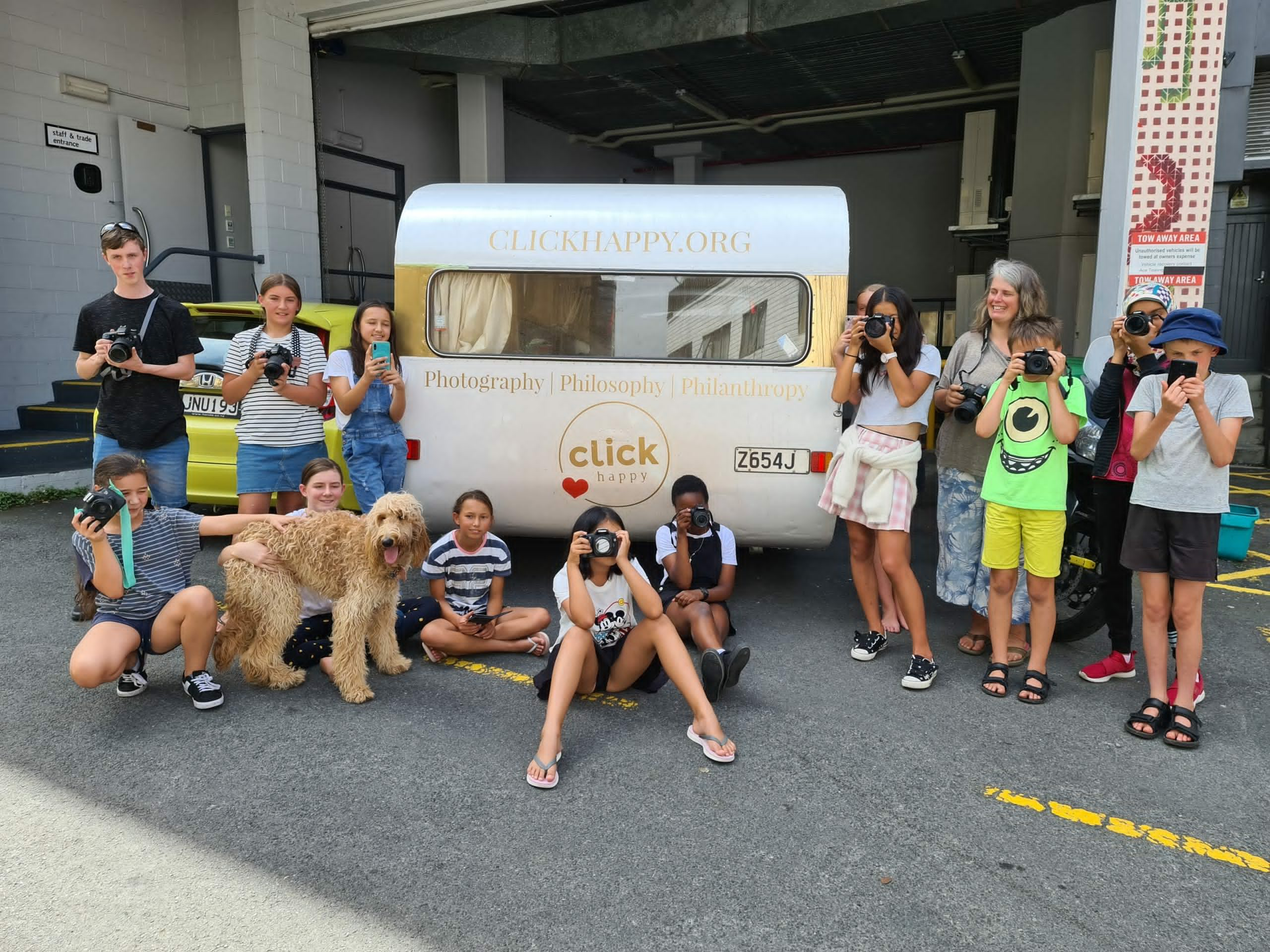 By successfully completing Click Happy Summer School you will then be in the running to win a scholarship to Click Happy Plus where you are shown how to use your photography as a philanthropist.  You are also mentored by award-winning professional photographers.
A philanthropist is a person who donates time, money, experience, skills or talent to help create a better world.
In our program, we learn photography so that we can create content for our favourite charities.
The added benefit is that by helping the charities with their creative communication challenges, we make ourselves more relevant in the rapidly changing job market that is in need of creative, resilient, innovators.  Win - Win.
Sounds Great!  How does it work?
Who is the course for?
Creative Youth aged year 8 and above (each selected school gets up to 10 scholarships to distribute)
Youth who want their art to make a difference in the world.
For curious youth
For young artists
For those who would like to possibly take art or photography in High School and would like a headstart.
For potential future entrepreneurs who want to know how to photograph and market their work.
For those who want to use their photography as a tool for their social activism
For content creators or those who want to be
For those that want to learn to be better photographers and visual storytellers
For youth who want to learn what might be blocking their best creative work and who want tools to remove those blocks.
Click Happy Summer Academy is a Hybrid Program
Part of it is online

The initial lessons (One hour once a week on Zoom plus online reading)
The posting of the images on our telegram channel for feedback

Part of it is practical

You are given a photographic challenge and have to go outside into the real world to answer the challenge.
Ideally, you get to go on photographic adventures and see things from new perspectives.
How much of a time commitment is this?  I'm sick of zoom school and just want a break...
Completely feel ya.  But for the record there are no grades in this.  You automatically get an A from the start of the class...that will be explained.
The reading of course materials will probably take about 15 minutes a week.
The zoom is for an hour and is optional but you will get lots from it.
The practical photography experiments can take one second to click one shot to hours to experiment and play your way into an image you love...that is all up to you.
As with most things in life you will get out of it what you put into it.  The more curiosity and play the better your photography will become.
Start date:
20 December  -First challenge and tutorial drops
22 December - First Zoom session 10am repeating every Wednesday for 6 weeks.
You must complete your registration by the 18th of December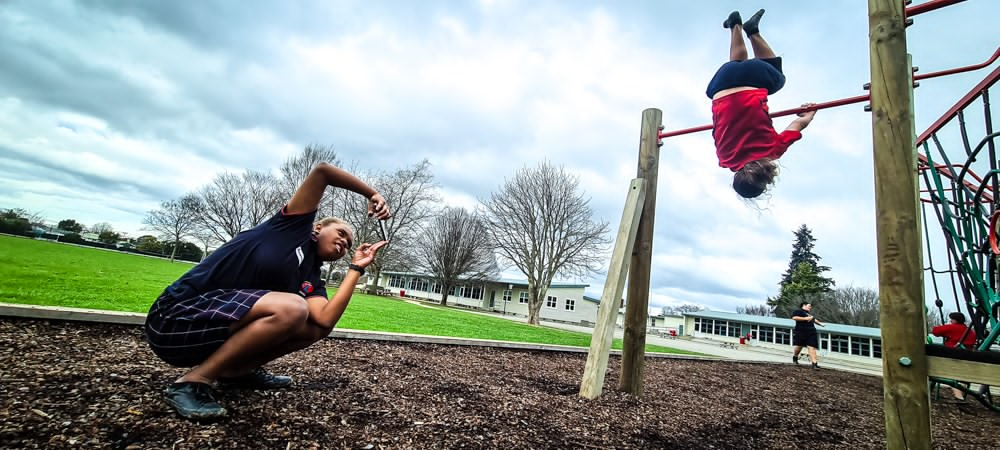 What gear do I need?
Access to a cellphone or camera that has manual settings

to get manual settings on your phone just download the free version of Adobe Lightroom.
manual settings on a camera are usually an "M" on the dial on the top if you aren't sure ask a teacher, camera shop, or local camera club.

Access to the internet to upload your images onto the Telegram channel and to receive the course materials.
If you don't have anything like this do remember that the course starts 3 days before Christmas...hint hint.  Or just ask someone in the family if you can constantly borrow their phone for the course...and then drop the previous hint. ;).  (We use cellphones that have pretty epic cameras in them that cost around $350.00 dollars new (OPPO and Motorola), and you can also sometimes get used DSLR cameras for around $350 - $450.00...look for ones that have a 50mm lens with them ideally as opposed to a twin lens kit,  the 50 or 35mm lens is better for street photography.)
The newer the phone the better the camera typically but an older iPhone 10 or newer will have a very good camera on it.  With androids, you usually need one that is new to two years old to have a decent camera on it.   The more cameras on the back usually the better, but to be honest we can teach you the basics on any cellphone as long as it has at least one camera).
also in a pinch, you could use an iPad or tablet with a camera to take the course and then do heaps of chores to save up money to upgrade.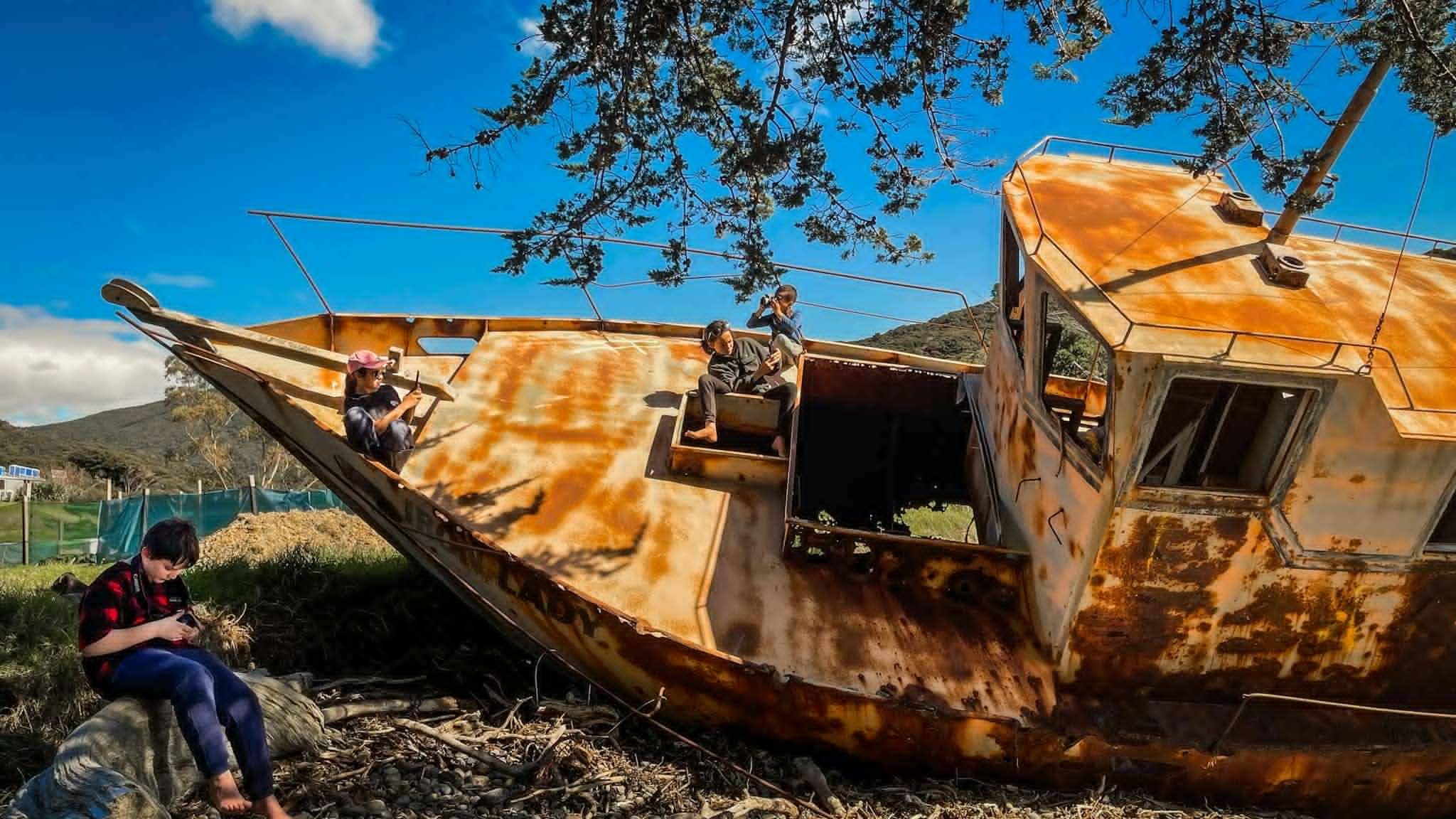 I want to do it but I might be away from the internet at a bach or something for part of the course.
Awesome.  That will give your shots even more variety and isn't a problem. Just let us know and we can give you the assignments that you will be working on while you are away and you can experiment at the bach with your camera.
We will be recording the zoom sessions so you can catch up when you get back as well.
Do I need to continue to the Philanthropy / Mentorship part of the course?
Nope, but you will probably want to as you will have made friends and you will be able to continue to develop your creative community if you carry on. You will need to complete the Summer School before you could be considered for the advanced course.
I'm in!  How do I sign up?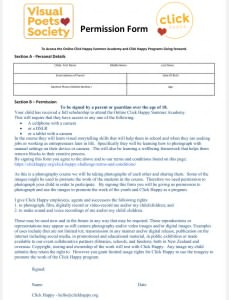 First download this file and have your parents fill it in.
Photograph it or have a digital copy with their signature and have it ready for when you register.
Once you have a completed Permission form (above)... Fill out the following and upload your permission form.
Our wonderfully amazing brilliant funders & sponsors
Funders & Sponsors 2020/2021/2022

Far North
Rodney North Shore
Waitakere City
Manukau
Papakura Franklin
Kirikiriroa / Hamilton City
South Waikato
Rotorua
Tongariro
Hutt Valley
Wellington
Central Otago
Coastal Otago / Waitaki
Wairarapa
Kahungunu Ki Heretaunga
Tamatea / Tamaki-Nui-A-Rua
Great Barrier
Manawatu / Horowhenua
Whanganui / Waimarino / Rangitikei
Auckland City
South Taranaki
Marlborough
Mataatua
Whangarei / Kaipara

Invercargill
Henderson
Kaipatiki
Masterton
Manukau
Waikato
Hamilton
Wellington
West Auckland
Papakura
North Shore
Waitomo
Dunedin

And Youth Librarians! We had no idea how amazing these community treasures are until recently! Thank you to all of the Youth Librarians who have seen the beauty in the project and have invited us to bring it to their region and who are helping to spread the word. You have halved our work and quintupled the number of youth who get to experience this program. What gifts!
Welcome
Updated on 2021-11-25T23:16:30+12:00, by Mandi.