Getting Started with Click Happy
Step One: Download the Apps
Step One: Please download these apps to your devices
Adobe Lightroom (free for mobile devices)
Snapseed
Telegram App (Download before you try and join the boards below - This is where you get support and can share your images)
Step Three: Join these three telegram boards
Step Four : Join any student-run interest boards that appeal to you
Why of Click Happy
New Zealand Schools, according to recent research, are struggling to teach skills related to Creative thinking.

In 11 areas of creativity, all 11 drop significantly as a student progresses from primary to graduation.

The World Economic Forum (WEF) predicts that 65% of jobs that currently exist will not by the time that primary school students graduate as they will be replaced by Artificial Intelligence.
Deloitte's and WEF have done future forecasting and have identified the following skills as important in securing future job security.
So in Click Happy we aim to use photography as a teaching tool to learn a philosophy that will help you to develop skills of Innovation and Creating positive impact in the world.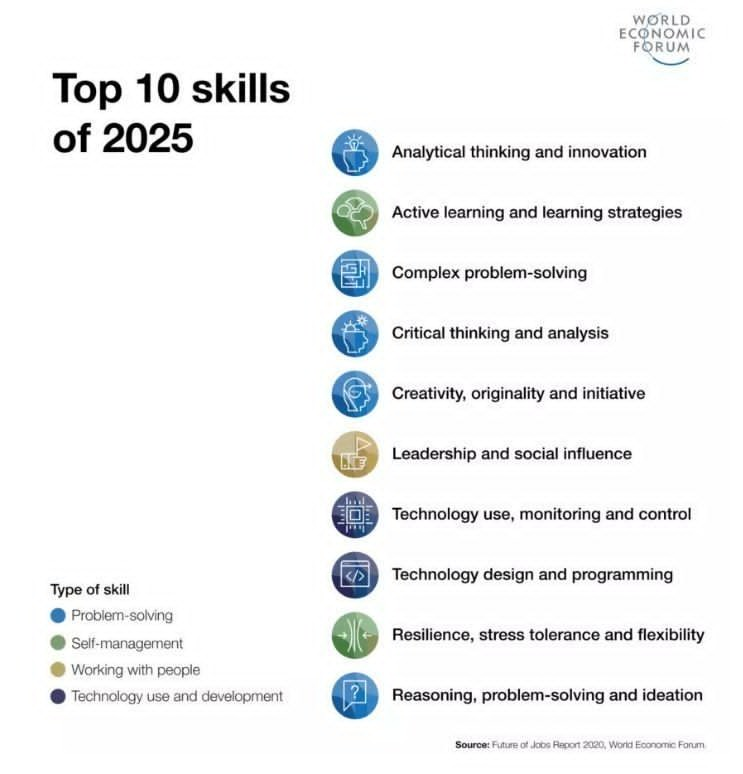 How Click Happy Works
This term is all about learning about yourself as an artist.
You will be introduced to our philosophy of Holistic Innovation.
It will help you develop skills and character traits that will be in demand in the future.
The world does not need any more consumers or passive followers, people waiting to be told what to do.  It needs creative innovators.  People capable of making an impact on the world who have a strong ethical base to work from.  We are interested in working with you to develop your capacity to shape the world into a better place than you found it.
We do this all through photographic challenges and lessons and zooms.
Lessons come via email. 
One new photography skill to practice
One section of creative muscle building to wrap your head around.
One challenge to help you integrate them.
Zooms happen Wednesday nights at 7pm.   There are 8 lessons in a term.
The benefits from this work are dose dependent.  The more time you spend working with Click Happy the more you will understand the philosophy and the stronger not only your photography skills will develop but also your creative capacity for innovation and your tools for your own wellbeing.
Zoom Schedule:
Every Body is a Treasure Charitable Trust is inviting you to a scheduled Zoom meeting.
Topic: Click Happy - Holistic Impact Lecture Series
Time: Jul 27, 2022 07:00 PM Auckland, Wellington
Every week on Wed, 8 occurrence(s)
Aug 3, 2022 07:00 PM
Aug 10, 2022 07:00 PM
Aug 17, 2022 07:00 PM
Aug 24, 2022 07:00 PM
Aug 31, 2022 07:00 PM
Sep 7, 2022 07:00 PM
Sep 14, 2022 07:00 PM
Sep 21, 2022 07:00 PM
Please download and import the following iCalendar (.ics) files to your calendar system.
Weekly: https://us02web.zoom.us/meeting/tZIucuiqqDopHNaIMShPZjENccA-ZyghrLce/ics?icsToken=98tyKuGurT4rGNKUsx-FRpwAA4_4d-rwpn5ego1ctTLWCxBpaCbYNeFjf4hmF9DC
Join Zoom Meeting
https://us02web.zoom.us/j/86351261362?pwd=ZEhzS1lYU2RGWitNbWU3V0x0WTlEZz09
Meeting ID: 863 5126 1362
Passcode: 811401
Welcome to the Click Happy Crew – Online
Updated on 2022-07-15T11:35:33+12:00, by Mandi.