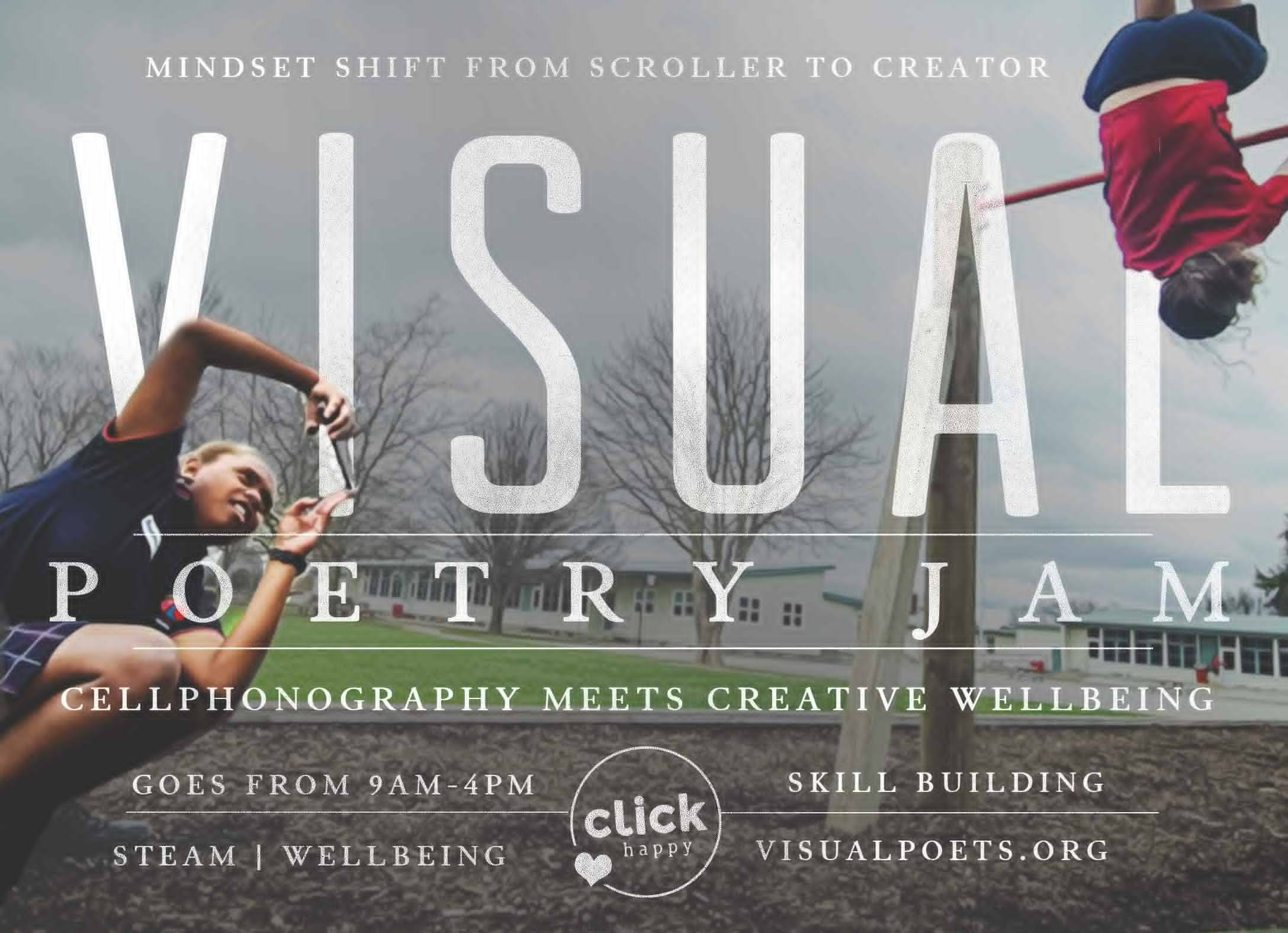 Let your 10 most talented visual artists shine
Need a pattern interrupt to really extend your dedicated artists?  One that might help you figure out a way to utilize the gear you have on hand in new ways?  And help your students build their creative community outside of the school while they are at it?
When you come to a VIsual Poetry Jam as a school your 10 selected students receive
a course that sells to adults for $150.00 on how to

Use a cellphone or Ipad like a fancy DSLR camera (thus levelling the playing field on who has the ability to tell visual stories well)
Edit images like a pro using industry level software for free on your phones or devices.
Compose an image so that it better tells the story in your head.
Understand creative grit and what builds or takes it away.
How to shift from being simply a passive scrolling consumer to being an active compassionate creator on your phone

A chance to learn and collaborate with other young artists from surrounding schools
Opportunity to learn from a past winner of New Zealand's Creative Photographer of the Year
Chance to win a $500.00 scholarship to be mentored to develop skills as a documentary photographer
The local COGS and Creative Communities Funders have given us the grant to pull this off so it is free to attend for your school.  Adults normally pay us $150.00 each for this class but you and your students get to attend for free.
You just need to pick your ten most promising visual artists and tell the school to get either a reliever so you can go or a parent or two to take the youth on the school's behalf.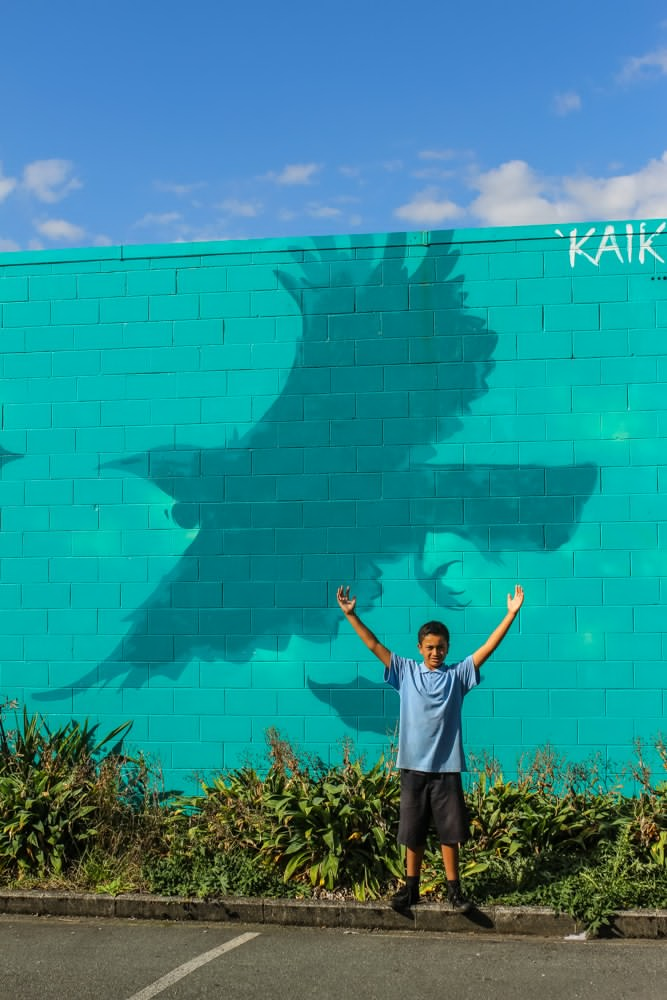 How do we choose who is invited?
When we come to a region we start with inviting the schools from the lowest deciles and then progress up the line.   We offer the spots first to Intermediates and then to Highschools in each decile and then if there is space remaining we will offer any spaces unable to be utilized to schools further up the Decile ladder.
What happens on the day
9:00- Check in 
0930-11:30 How to use the phone like a DSLR. + Composition techniques.
(This is a fire hose of content)
11:30-12:30  Lightroom Editing
12:30 - 2pm Lunch with groups and Scavenger hunt for images
2-3 Groups select and edit and upload their portfolio.
3-3:30 Selection of scholarship winning group - prize giving and Gratitude and Grit Challenge laid down (if they share a photo a day for a month streak of things that they are grateful for they on the Telegram channel they will win a scholarship to the program)
What does our school need to do to make it happen?
Arrange 2 parents or teachers to attend with the children.  (Is a helpful PD for a teacher).
Arrange transport for the students to the library and back.
Pick the 10 students to attend.
Get the consent forms signed
Send us a list of the names of the students attending
ensure that the students have set up their phones with the necessary apps before coming (we will send you information about this)
What sort of a student will get the most out of the opportunity?
The visual artists in the group (always drawing)
Youths who see things differently
Youths who like photography
The creative youth
The youth who could use a new positive peer group - and who has one of the above.
Key Competencies Covered
Thinking

Students learn how to use a piece of technology in a new way and then actively apply what they have learned.
Utilizing auditory, kinesthetic, and visual thinking skills

Relating to others

Two schools are brought together and are challenged to work in teams.

Using language, symbols, and texts

This workshop focuses on using critical thinking to create visual symbols.  It is about storytelling with a camera

Managing self

The scavenger hunt just creates the space.  The students are self-managed to achieve their imagery within the team.

Participating and contributing

The collection of images requires one image from each student in their group.
When and Where are these Events Happening
Papakura (31 August 9-4)
West Auckland Henderson Library (1 September)
Glenfield Library (12 August from 10- 3pm)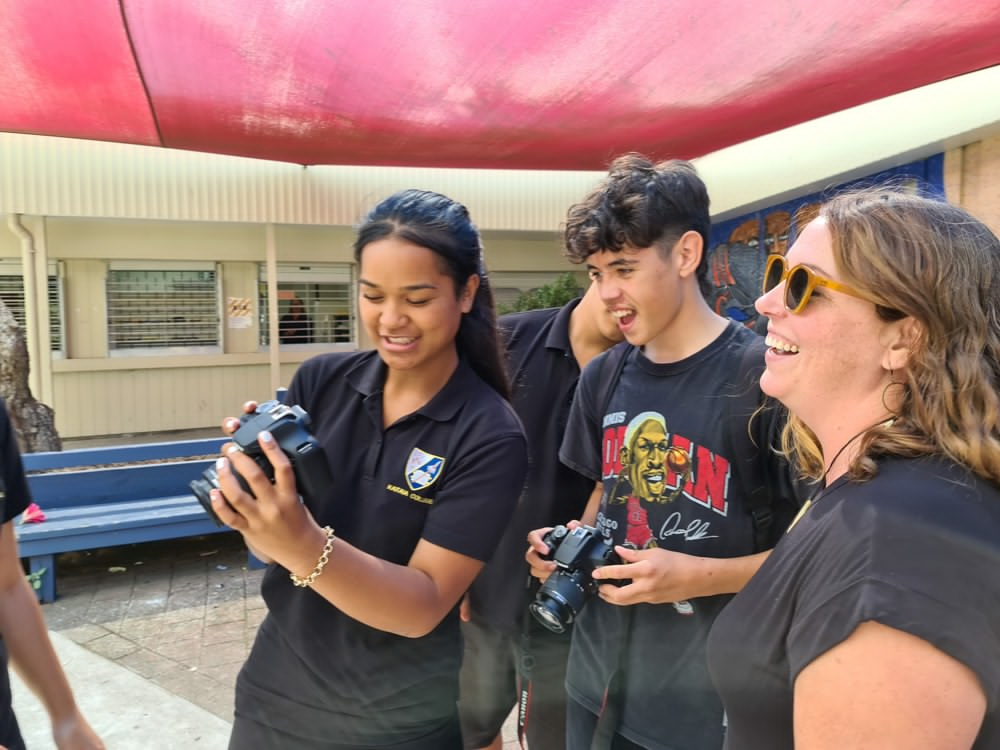 Benefits for the teacher
You get time to chat with the other photography teachers in the region and swap tips.
A day with just ten of your best and brightest to help build your relationship.
You get to learn some skills on how to convert your cellphone into almost a DSLR.
You can show off how talented your students are.
You don't have to plan a lesson and just get to have fun with your youth.
You might pick up some tricks on how to maximize the cellphone camera features.
You might pick up some editing techniques and tricks on lightroom mobile.
You might get reinspired to do some of your own street photography work.
You will get to see your kids rift with other creative youth from other schools in a photographic improv session.
Your students will learn advanced techniques and can help you to share them with the students that didn't get to come.
One or a couple of your students may win scholarships to learn Documentary Photography skills with a master photographer.
Consequence
You get upskilled, your students get upskilled, you get to widen your creative community.
Win, win, win. .
To register your school just fill in this form and we will be in touch.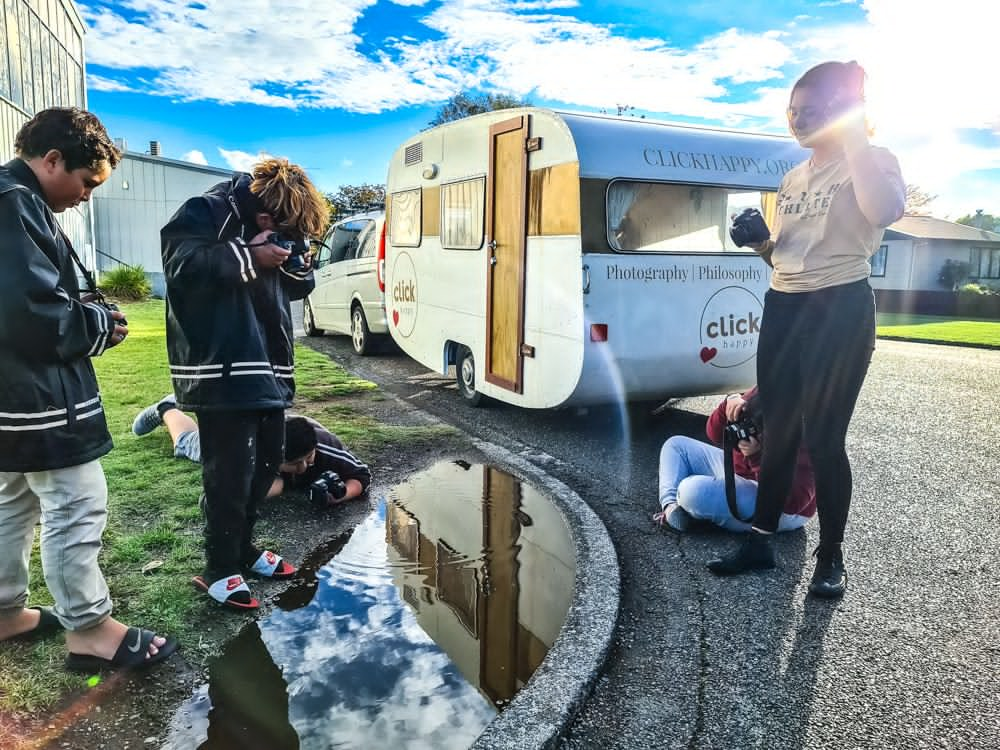 Our wonderfully amazing brilliant funders & sponsors
Funders & Sponsors 2020/2021/2022

Far North
Rodney North Shore
Waitakere City
Manukau
Papakura Franklin
Kirikiriroa / Hamilton City
South Waikato
Rotorua
Tongariro
Hutt Valley
Wellington
Central Otago
Coastal Otago / Waitaki
Wairarapa
Kahungunu Ki Heretaunga
Tamatea / Tamaki-Nui-A-Rua
Great Barrier
Manawatu / Horowhenua
Whanganui / Waimarino / Rangitikei
Auckland City
South Taranaki
Marlborough
Mataatua
Whangarei / Kaipara

Invercargill
Henderson
Kaipatiki
Masterton
Manukau
Waikato
Hamilton
Wellington
West Auckland
Papakura
North Shore
Waitomo
Dunedin

And Youth Librarians! We had no idea how amazing these community treasures are until recently! Thank you to all of the Youth Librarians who have seen the beauty in the project and have invited us to bring it to their region and who are helping to spread the word. You have halved our work and quintupled the number of youth who get to experience this program. What gifts!
Teacher – Visual Poetry Jam
Updated on 2021-10-28T12:32:37+12:00, by Mandi.