Staged Photography: Top 10 Artists
Staged photography concerns the photographic image that has been arranged or set-up. Artists have long utilised the medium of photography to create a contrived environment, scene or vignette to communicate something other than the decisive moment typical of the opportunist snap or documentary image traditionally associated with the medium. Staging gives the artist the opportunity to make very specific and careful choices, in order to control every element and even sometimes to give the appearance of spontaneity. With or without models, staged photography can be broken down into several categories; ranging from fantastical scenes impossible to contemplate in reality, to trompe l'oeil exercises in technical virtuosity often set up in a studio, to full movie production tableaux vivants. The selection below is by no means exhaustive but illustrates some of the most notable, distinctive and original applications of the idea in the production of modern and contemporary art in the last century. Not all were recognised as important artistic or technical innovators at the time, but nowadays all are universally acknowledged for the significance of their vision and contribution.
1. John Hinde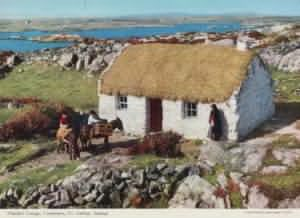 A pioneer in the use of colour staged photography in advertising and propaganda, Hinde was involved in producing images for promotional posters during the Second World War in Britain; informative and propagandist scenes illustrating families working with their rations, gas masks and the trappings of everyday life in wartime Britain. After the war, he was almost single-handedly responsible for evolving the imagery used in colour souvenir postcards. He had a large roster of staff photographers who were trained to scrutinise every detail and element in the pictures, contriving to add improvements or embellishments in order to make the perfect image. He built a large business consulting for tourist authorities in the UK and Ireland who all relied on his incredible ability to make everything look much better than it was in reality. He famously planted flowers on a clifftop in order to make a coastal vista look much prettier and when contracted to make a promotional image for the Island of Arran off Ireland's west coast, was forced to send staff to the mainland to get Arran sweaters for the child models in the absence of suitable examples on the island itself. He was an early pioneer of manipulating the tone and saturation of colour in production, and in the late 1960s and 1970s produced a memorable series for the British holiday camp chain Butlins, affordable yet somewhat basic holiday destinations for the working classes that appeared as Utopian wonderlands in Hinde's representations of their various locations.
2. Pierre Molinier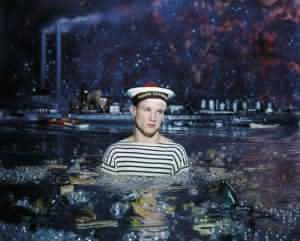 A pioneer in the staged photograph in the depiction of sadomasochism and sexual fantasy. In the early twentieth century, Molinier began his artistic career as a landscape painter working in a style somewhat similar to the Impressionists and Fauvists. In the late 1940s he began to explore the medium of photography for a deeply personal interest in fetishism and eroticism, and after a period in which he was closely associated with Andre Breton was integrated into the late iterations of the Surrealist group in Paris. In a 1965 Surrealist exhibition he exhibited a dildo, a feature called a 'godemiche' which recurred extensively in his photography of this period. From 1965 onwards he made most of his work in his Bordeaux apartment (which he referred to as his 'boudoir'), and with the aid of a remote control switch, he began to make autoerotic self-portraits and photomontages in which he assumed the roles of dominatrix and succuba. In these beautifully made, intimate black and white photographs, Molinier, either alone with doll-like mannequins or with female models, appears as a transvestite, transformed by his 'fetish' wardrobe of fishnet stockings, suspender belt, stilettos, mask and corset. Scholarship is unclear as to whether these images were for public exhibition or were instead deeply personal visual mementoes only for "my own stimulation" as Molinier himself stated in 1955. His images were also often meticulously collaged into montages of vertical or radially symmetrical configurations of figures, like the multi-limbed deities of Hindi religious iconography. A homosexual and a transvestite, Molinier despised moral and sexual orthodoxy, pioneering the kind of violent sexual fantasy imagery most of the Surrealists could only dream of, and surely blazing a trail for later artists such as Mapplethorpe and Araki.
3. Cindy Sherman
Beginning her art studies in 1972, Cindy Sherman was originally a painter. But when she realised that she was spending most of her time reverentially working through the kind of work other artists had already made she abandoned this medium altogether. "There was nothing more to say [through painting]", she recalled. "I was meticulously copying other art, and then I realized I could just use a camera and put my time into an idea instead." Renowned for assuming multiple roles as author, director, make-up artist, hairstylist, wardrobe mistress, and model, she has always performed as the subject-characters of her works and has worked through many different bodies of work exploring iterations of this idea. She typically works on a single idea at a time and then develops it extensively through a series of images, the first examples of which are the Bus Riders images begun in 1976 and in which she used costumes and make-up, including blackface, to transform her identity for each image. Developing this theme led to the major breakthrough series which confirmed Sherman as a major voice in contemporary art and in the process garnered international recognition; The Untitled Film Stills of 1977-1980. In these works, a series of 96 images, Sherman poses as if a heroine in a movie, echoing the tropes and themes of films, most specifically the realist cinema of Italy and France of the 1960s, and the film noir genre of Hollywood from the late 1940s through the 1960s. The artist poses in different roles including librarians, hillbillies, and seductresses, and in various settings including street scenes, nondescript front yards, swimming pools, beaches, and interiors, with each appearing to be a frozen moment of cinematography from a broader narrative. None are titled, only numbered, allowing the narrative to be implied and inferred rather than overtly stated. Throughout the 1980s and to the present day Sherman has completed many series, working with historical themes of portraiture, circus characters, the grotesque, often also using elaborate prosthetics, makeup, lighting and large format printing processes.
4. Laurie Simmons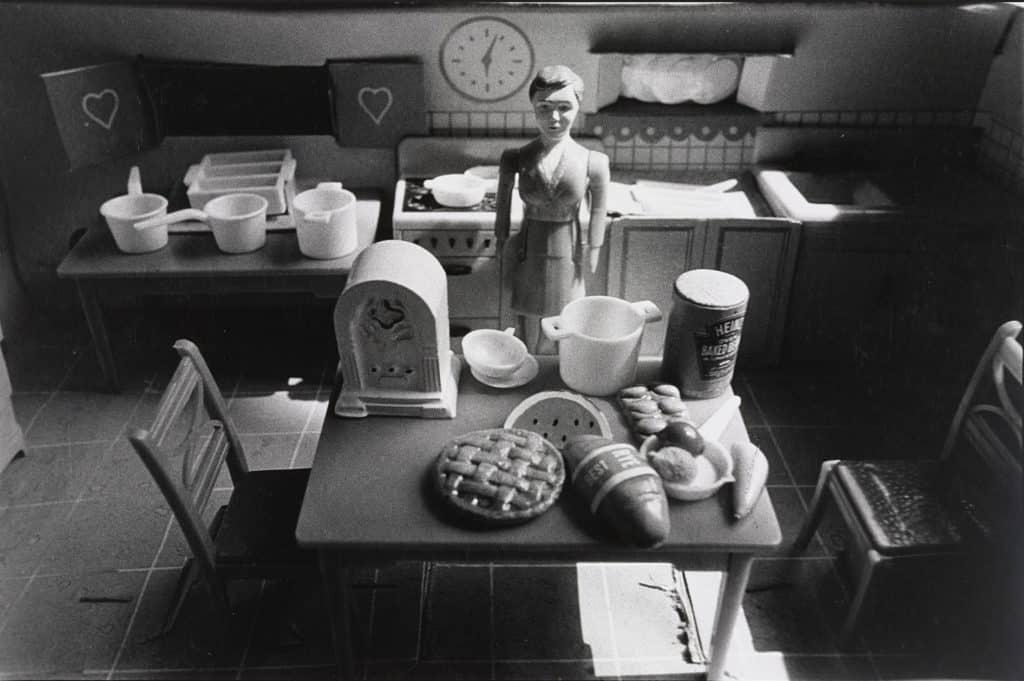 Laurie Simmons is an artist, photographer and filmmaker who also came to prominence in the late 1970s, and also part of the so-called Pictures Generation, named for those artists included in and associated with the group shown in the exhibition Pictures in 1977 and brought together in a survey show at the Met in 2009. In 1972, Simmons discovered a vintage dollhouse in the attic of a toy store in Liberty, New York. This was during the second wave of feminism, and dolls were viewed skeptically by many who claimed that the toys supported the indoctrination of young girls into adopting domestic roles. Simmons was drawn to the strange, strongly gendered appeal of dolls and dollhouses and began photographing them. Since the mid-1970s she has staged scenes with dolls, props and models of interiors in order to represent domestic scenes. Simmons' first mature works, shot in 1976, were black-and-white images taken in a dollhouse; shot in each room in the house without figures, particularly the bathroom, using sunlight and different angles to create a dreamlike stage setting. She then added a housewife doll into a kitchen set and photographed the figure over and over in various positions — standing and sitting at the table, performing perfunctory kitchen chores, at the counter, in a corner, even standing on her head with the kitchen in disarray. She has shot model interiors with replicas of iconic artworks, and in the later 1970s began to make works in a color process more often associated with commercial photography. By using the techniques identified with advertising, fashion, and film, Simmons linked her work to a fantasy world of suspended belief. She has made series about fashion, interior design, tourism, cowboys and water ballet. Much of Simmons' work concerns the role of women in society. Her 'objects on legs' photos series from the late 1980s feature consumer items such as dollhouses, cakes, guns and musical instruments with long, slender legs, intending to make a statement on traditional gender roles. In a March 2014 interview, Simmons stated, "When I picked up a camera with a group of other women, I'm not going to say it was a radical act, but we were certainly doing it in some sort of defiance of, or reaction to, a male-dominated world of painting".
5. Sandy Skoglund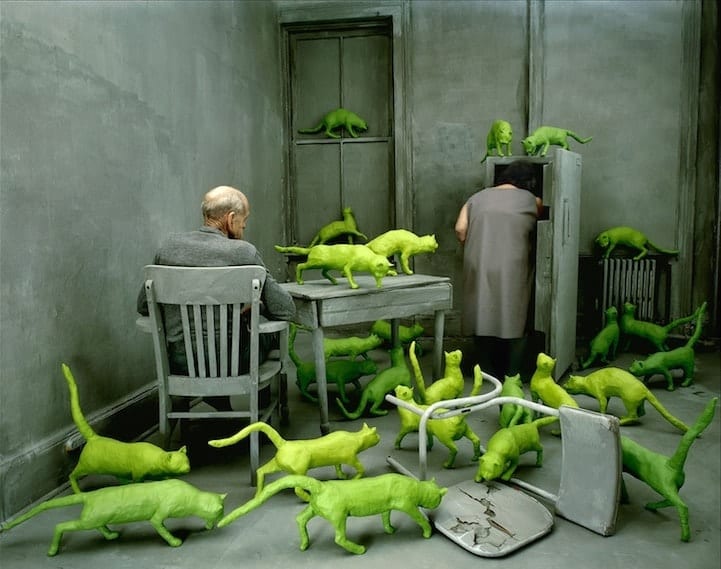 Sandy Skoglund is both an installation artist and a photographer. She creates surrealist images by building elaborate sets or tableaux, furnishing them with carefully selected colored furniture and other objects, all of which reflects the chosen palette motif, a process of which takes her months to complete. Finally, she photographs the set, mostly including live models. The works are characterized by an overwhelming amount of one object and either bright, contrasting colors or a monochromatic color scheme. In 1972, Skoglund began working as a conceptual artist in New York City. She became interested in teaching herself photography to document her artistic endeavors, and experimenting with themes of repetition. She was interested in dealing with repetitive, process-oriented art production through the techniques of mark-making and photocopying. In 1978, she had produced a series of repetitious food item still life images. Skoglund's works are quirky and idiosyncratic, creating a dreamlike scene. They were described by New York Times photography critic as "evoking adult fears in a playful, childlike context"
6. James Casebere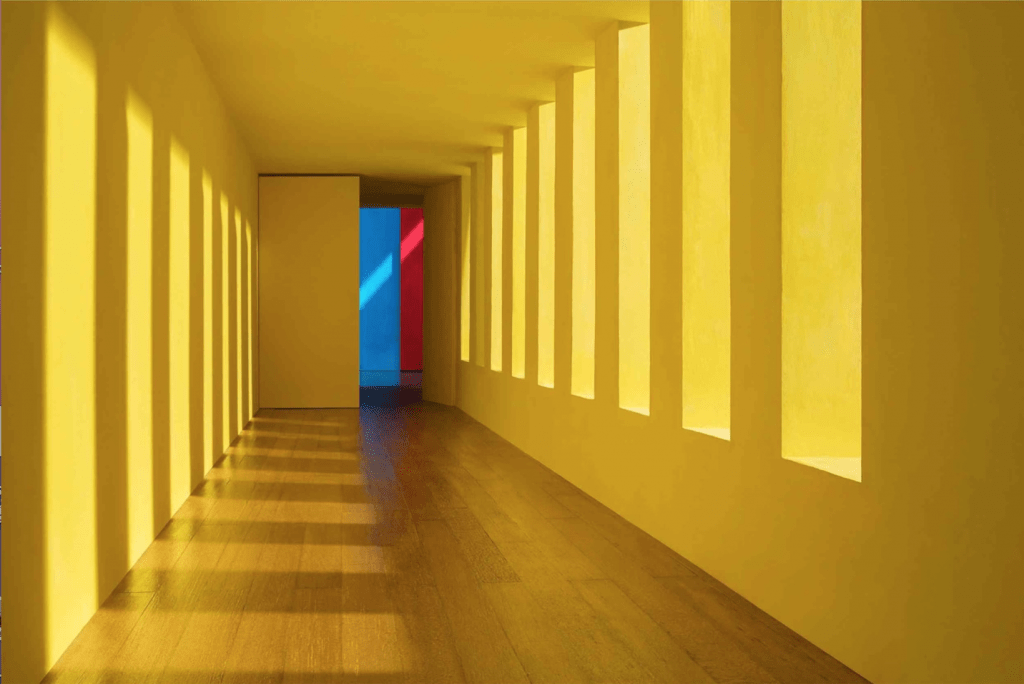 James Casebere is a pioneering artist in the field of conceptual and staged photography, associated with the pictures generation of postmodern artists who came to prominence in the late 1970s and 1980s. In 1977, he attended the Whitney Independent Study Program in New York and received an MFA from Cal Arts in 1979, where his classmates included Tony Oursler and Mike Kelley. For over 40 years he has built and photographed architecturally based models, which explore the relationship between sculpture, photography, architecture, and film. His hauntingly beautiful work has established him at the forefront of artists working with constructed photography. For the last thirty years, Casebere has devised, designed and constructed increasingly complex models that are subsequently photographed in his studio. Based on architectural, art historical and cinematic sources, his table-sized constructions are made of simple materials, pared down to essential forms. Casebere's abandoned spaces are evocative and oftentimes suggestive of prior events, encouraging the viewer to reconstitute a narrative or symbolic reading of his work. From 1986 he has also made large scale installations of his sets. Early bodies of work include images of the American suburban home. This was followed by both photographs and sculptural installations addressing themes as diverse as a mythical American West, different periods and vernaculars of architectural interiors, institutional buildings and even prisons. He has made images of the bunker under the Reichstag, flooded eighteenth century rooms, Hispano-Moresque architecture, and even specific renderings of spaces designed and built by renowned art nouveau architect Victor Horta, and American modernist, Richard Neutra. Casebere's photographs of sculptural installations suggest "an element of unreality that sparks a feeling or causes viewers to question the space and fill it with answers of their own".
7. Pierre et Gilles
Pierre Commoy and Gilles Blanchard are a French photographic duo who met at the opening night of the Kenzo shop at Place des Victoires, Paris, in 1976. They tell a story that they left on the same scooter that night and never separated. This marked the beginning of a passionate relationship as well as a prolific artistic collaboration. For almost 40 years they have created a sumptuous dreamlike world of flamboyant theatricality, steeped in reference to cinema, literature and popular culture. Their portraits have encompassed the loved ones of friends of the family, fellow artists and artistic collaborators and celebrities. The creative process is precise and meticulously rehearsed: together the duo draft a project – first as a drawing, and then as an actual mise en scène where the use of myriad objects and accessories brought from their travels results in a rich theatrical spectacle, highlighted by their use of the dramatic stage and lighting effects. Pierre and Gilles design and craft their stunning costumes themselves, and they choose the make-up and hairstyle, applying them with the help of experts. Once the set is ready, Pierre photographs it and Gilles retouches the unique print with layers of paint, making the finished artwork an unusual combination of photograph and hand-tinted painting. The early works that propelled them to fame and employed simple backgrounds and clean colours and were more focused on the subjects of the portrait. Images of Andy Warhol, Mick Jagger and Iggy Pop published in the French magazine Façade were notable early examples. Their work is deeply rooted in a crossover between high art and popular culture, making a hybrid high art /lowbrow kitsch sensibility. They frequently invoke references to the religious iconography of saintly portraits and Catholic martyrs, eroticism, burlesque, mythology and children's tales. Constantly revamping the art of portraiture, the two men explore the limits of what can be considered fine art. Recurring characters fill their frames: sailors, princes, fishermen, saints – but the story of these figures is told with both tenderness and cruelty, in a fairytale fashion. The campness and explicit reference to gay culture carry a strong message of defiance, openness and tolerance. Jeff Koons believes the pair have strongly shaped culture as we know it today: "It's hard to think of contemporary culture without the influence of Pierre et Gilles, from advertising to fashion photography, music video, and film. Their highly saturated images, making reference to art history and religious iconography, create a visual impact that transcends cultures around the world. This is truly global art"
8. Thomas Demand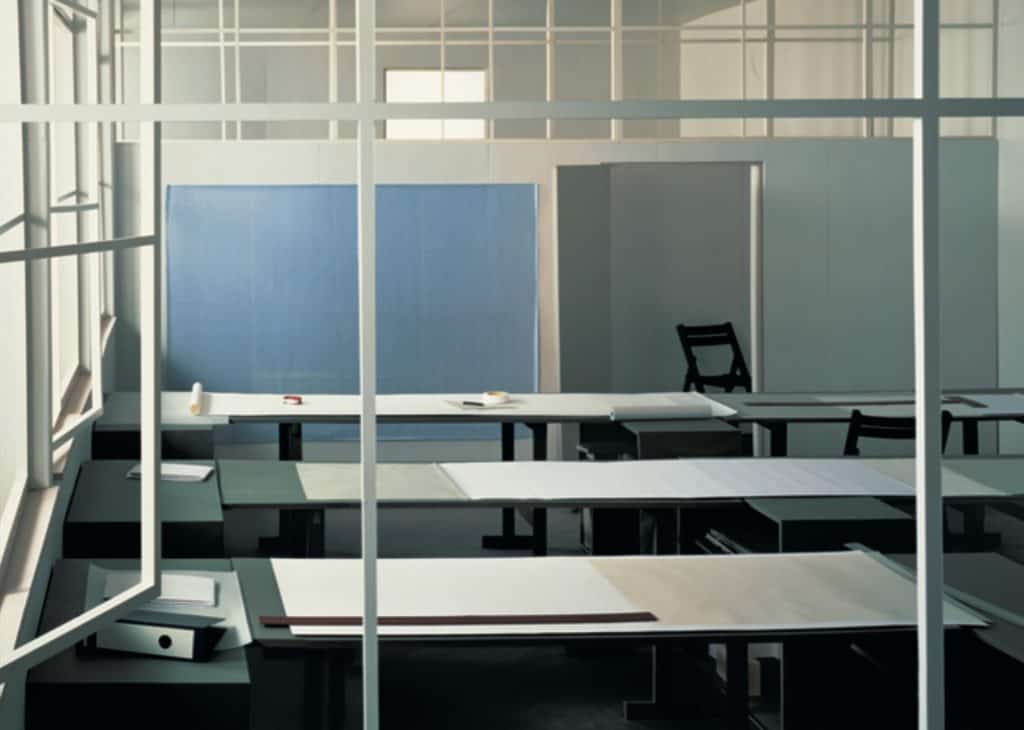 Demand is a German sculptor and photographer. He is known for making photographs of three-dimensional models built carefully by him that look like real images of rooms and other spaces. He often recreates sites loaded with social and political meanings, such as the New York hotel room in which L. Ron Hubbard worked on Dianetics, which was the starting point for Zimmer (Room) (1996), Scheune (Barn) (1997) which is based on a Hans Namuth photograph of Jackson Pollock and Lee Krasner in Pollock's East Hampton studio, and Control Room, which shows the command centre of a Japanese nuclear power plant in the aftermath of an earthquake. He describes himself as a conceptual artist for whom photography is an intrinsic part of realising his finished image. He studied sculpture as an art student at the Kunstacademie Düsseldorf, alongside Katharina Fritsch and Thomas Schütte, and eventually began his art career as a sculptor. In the early 1990s, he began to use photography to record his elaborate, life-sized construction models made from paper and cardboard. These recreated actual or formerly existing environments and interior spaces and signalled the beginning of making constructions for the sole purpose of photographing them. The photographs he takes of his models are made with a large-format camera. After the photographic work is completed Demand destroys his life-sized environments since they have served their purpose. The life-sized models are highly detailed, yet upon close scrutiny, their artifice can be detected. They retain subtle but deliberate flaws and anachronisms, such as an unnaturally uniform texture, flatness of colour and can be disquieting. According to New York Times art critic Michael Kimmelman, "the reconstructions were meant to be close to, but never perfectly, realistic so that the gap between truth and fiction would always subtly show".
9. Gregory Crewdson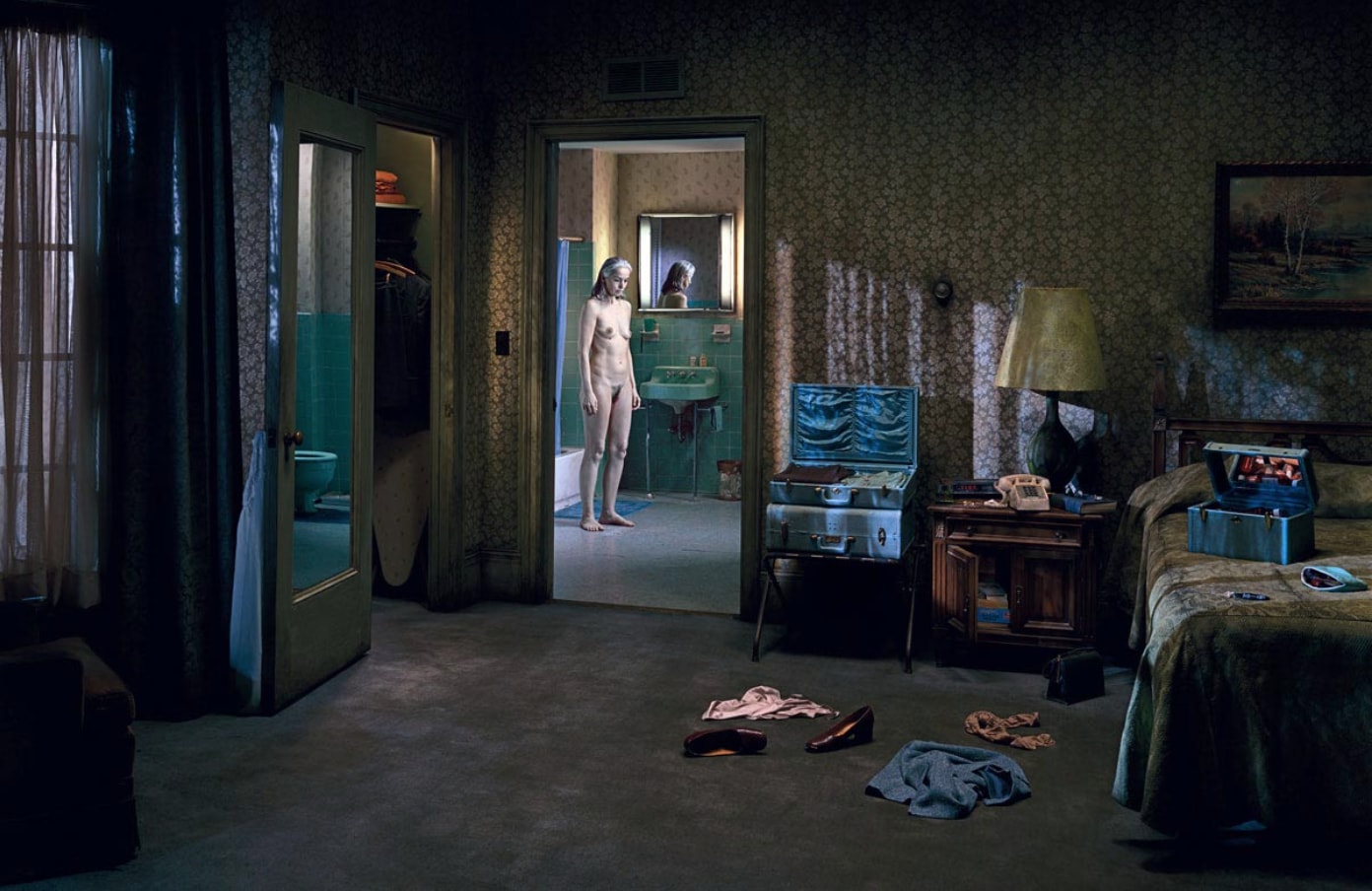 Gregory Crewdson is an American photographer whose work has themes of American small towns, neighbourhoods and homes at its core. Crewdson's photographs usually take place in small-town America, but are dramatic and cinematic with a penchant for the unsettling and sinister. They often feature disturbing, surreal events, imply a complex and melodramatic narrative and capture profound themes of fear and anxiety, love, loss, life and death in one moment of stillness. With a budget similar to that of a small movie production each image involves huge crews and weeks to months of planning. His photographs are elaborately staged and lit using the expertise of motion picture production and lighting professionals, often using the same equipment and techniques. He has cited the films Vertigo, The Night of the Hunter, Close Encounters of the Third Kind, Blue Velvet, and Safe as having influenced his style, all of which are noted for their innovative use of dramatic lighting design. He has also discussed the painter Edward Hopper and photographer Diane Arbus as key influences. In 2012, he was the subject of the feature documentary film Gregory Crewdson: Brief Encounters. The film followed the construction and the behind-the-scenes explanation from Crewdson himself of his thought process and vision for his Beneath the Roses, a series considered the most emblematic of his practice.
10. David Lachapelle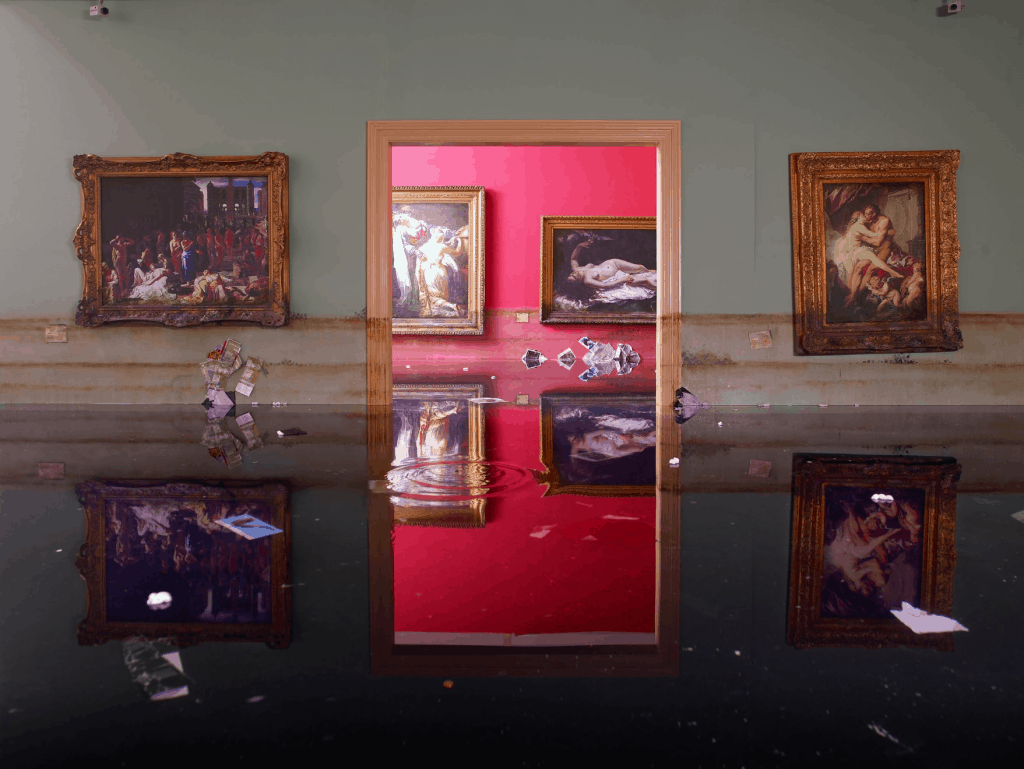 Once called the Fellini of photography, as a youngster LaChapelle frequented NYC nightspot Studio 54 where he met Andy Warhol. Hired to shoot for Warhol's Interview magazine, Lachapelle was responsible for the last portrait of Warhol, prior to his mentor's death. In the 1990s Lachapelle became the go-to photographer for celebrity shoots and music videos, covering everyone from Tupac Shakur, to Hilary Clinton and every famous person in between for publications as diverse as Rolling Stone and Italian Vogue. As his popularity and resources increased LaChapelle developed a Factory-like studio in Manhattan's East Village where he built ever more elaborate sets to stage his photographs. He has worked with Pamela Anderson for many years and has made a pop culture icon out of transsexual Amanda Lapore, another of his muses. In the early 2000s, he relocated to Los Angeles, converting a huge industrial facility into an even more elaborate studio for the construction of his lavish productions. Mixing references to pop culture, art history, film and music history and street kitsch, Lachapelle has become one of the most recognised photographers in the World. He has designed a Las Vegas concert residency at Caeser's Palace for Elton John and made a feature film of a street dance culture in south-central LA called Rize. In recent years LaChapelle has focused more extensively on important themes in international affairs, such as climate change, and oppression, attempting to distil these ideas in bodies of work made intentionally for fine art gallery exhibitions rather than commercial clients. Based primarily on a quiet farm in Hawaii these days LaChapelle has made elaborate staged photography a continued part of both commercial and fine art for over twenty years.